Graphic Design is My Passion Meme- Everything You Need to Know
Have you ever come across the words graphic design is my passion meme? Well, if yes, you probably love web design as well as memes. Most graphic or web designers are now curious to know the real origins of this phrase and meme, what it really means, who made it, and how to create some new memes of these phrases. Well, you don't have to look here and there as here you will find all your answers. So, keep reading.
Graphic Design is My Passion Meme – The Origin
As per the records, graphic design is my passion meme began in the year 2014 on a well-known image-sharing platform called Tumbler. If you look at the original meme, you will find it ugly, and that is a bad example of graphic design. However, speaking more about the meme, it was created by a Tumbler user called Yungterra on 7th July 0214. The user posted an image that includes a funny green-colored frog in a cloudy sky with a caption saying, "graphic design is my passion.
Even though the image quality was very low, it became very popular within a short time. In fact, within just one year, the image got more than 350,000 notes and also became a reason behind hundreds of memes. And now today, when people want to define a bad web or graphic design, they use this phrase in the form of a graphic design is my passion meme.
What Do You Mean by Memes?
Well, the word meme is derived from a book written by Richard Dawkins, a famous biologist, in the year 1976. In the book, he wrote that memes are a creative way to preserve ideas and cultures through communication, for example, songs, stories, and jokes.
You all know that memes spread rapidly as they are easily shareable items on social media platforms like Twitter, Facebook, Instagram, and more. On the other hand, they are a popular form of entertainment. For instance, people can share such memes without writing a long paragraph to share their feelings or to make a joke. For example, if you don't like graphic design, you can just share graphic design is my passion meme to describe your feelings. And this is really funny.
Graphic Design is My Passion Meme- What Does It Mean?
Speaking more about Graphic design is my passion meme; it is like a sarcastic statement for designers. This is a type of expression, and designer companies, visual artists, and web designers use this as a fun joke for a mediocre or unprofessional web design. Well, design firms and designers can be very enthusiastic about their tasks. Besides, they also like to express their feelings. Just look at different social media platforms such as Instagram, Behance, or Dribble. Graphic or web designers enjoy sharing this meme to mock designers.
Some graphic designers use words, Paint, and other free tools to create graphics. But those designs look bad. If the UI is not at all appealing, then one can share this graphic design is my passion meme.
However, now different variations of this meme are available online. You can find this meme with animated design, WordArt, and some are definitely created using Paint.
Graphic Design Is My Passion- Design Variations
The primary objective of creating this type of meme was to express a poor design- image cropping, font choice, background, color selection, and anything that you can imagine. If you look at the original image, you can say it is perfectly justified with the cloudy gray sky background with a cropped frog from Classroom Clipart. They perfectly complement each other.
On the other hand, the phrase is written using the Papyrus font. No professional graphics or web designer uses this font. After that, people got into a competition to see who could make this meme worse, and you can find some amazing memes of this phrase. For example, some memes came with a rainbow background with an animation effect along with difficult-to-read fonts and irrelevant graphics.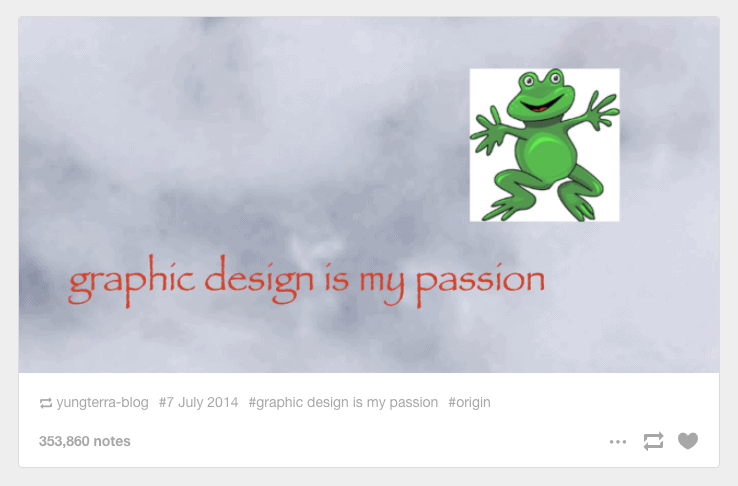 On 15th April 2015, Dreamyacorn, a Tumbler user, posted an updated picture of the original graphic design of the meme by adding the logo of Tumbler. Surprisingly, it got more than 130,000 notes within just five months. Apart from poorly cropped cartoon characters and photographs, memes also come with some of the most disliked fonts in the world, for example, Comic Sans.
Some Examples of These Memes
Memes With Colorful Rainbow Design
This is one of the most popular and common memes. The meme comes with a colorful rainbow background with different hilarious and funny cartoons on white background. This exemplifies how one can choose a font and use a photo unprofessionally. It looks very funny, and the color combination may irritate some people.
Memes With Different Font Types
This meme is a result of a paint editor available in almost every computer. Can you remember how your pain editor looked when you began using your computer for the first time? The meme includes a jumble of mismatched fronts with different sizes and color combinations.
The image has different text styles, text shadows, and font sizes. Besides, you can also use different traditional approaches to make your meme more appealing to the users. A perfect meme to express your feeling about the text design used in a graphic design.
Final Words
Even though it is quite old, the popularity of graphic design is my passion meme is still there and increasing. It doesn't seem like it is fading out anytime soon. And the major reason behind this is the phrase is still relevant and reminds people that web or graphic designers should love and enjoy their work without taking themselves very seriously. Web designers still use these memes to poke fun at themselves as well as to express their feelings about their work on social media channels. Besides, some companies use these memes to lighten their employees' moods and keep the working environment enjoyable.
Also Read this –
how can performance planner serve your business